Madison Volt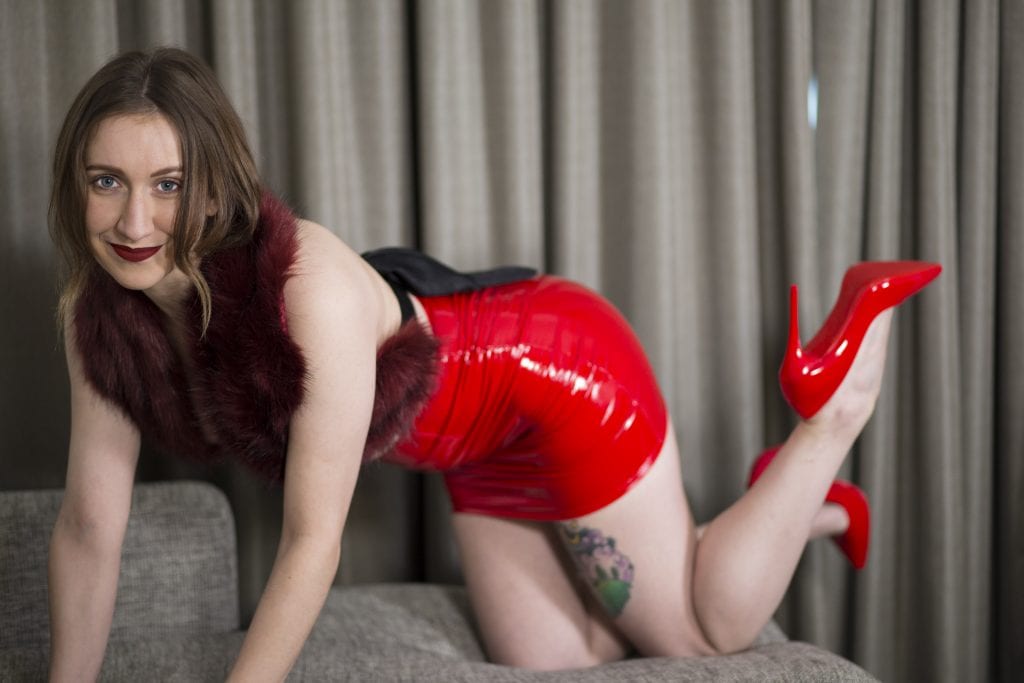 Email: Madi@MadisonVolt.com
Birthday: Oct 16th
Hair: Light Brown, Medium Length
Height: 5′ 5″
Eyes: Green
Weight: 120 lbs
Complexion: Fair
Bust: 32D
Orientation: Bisexual
Shoe Size: 8
Madison is part-time and has
variable availability.

(Subject to Studio Availability
Due To Exclusive Use of Studio)
Miss Madison's availability is
listed here: Availability

(Two Hour's Advance Notice
Required for Same Day Sessions)
My name is Madison Volt and I am a fun-loving switch! My interest in kink and BDSM began through the eyes of a submissive, but I have more recently begun to get in touch with my Dominant side. I initially began to explore BDSM & kinky play with personal partners, but I quickly realized this lifestyle is a larger part of my identity. I've loved exploring BDSM and kink through a professional lens because it's given me the opportunity to meet and play with so many lovely and sexy people.
My appearance is playfully alluring, and I've been described by others as svelte and elegant. Just a glimpse of my brilliant smile will have submissives wanting to keep me pleased at all times. My long legs are my most dominant feature, and my green eyes will pierce straight through you.
My first love has always been animals; I'm formally trained as a veterinary technician and I still carry an active license. In my free time, I enjoy photography, painting, cooking, and baking. Self-expression is very important to me, and spending time enjoying my hobbies is a great way for me to channel that. BDSM has become another incredibly important outlet of personal expression!
My attitude and general style as a Dominant is sensual and playful. That isn't to say that I can't be strict or even downright cruel, but my natural inclinations tend to be softer and less militant. I've always been a huge tease and love to drive people crazy with my physical assets. Tease and denial is such a fun way to establish a power exchange dynamic, which can have a huge impact on a session. I adore rope play and bondage in all forms, so tying someone up and rendering them helpless really gets me excited. I crave an intimate back and forth with my play partners and am a firm believer that the more we communicate, the more fun we can have together.
My attitude as a submissive is exemplified by my willingness to please, and my enjoyment of being used for pleasure. I especially enjoy a total power exchange, corporal punishment, and role-play. For me, it's all about the attitude and assertiveness of the Dominant that does the task of getting me into a submissive mindset – and once I'm there, I'm happy. If you want to develop your Dominant side, I always recommend booking a doubles session with me and another Dominant. This will allow you to build your confidence and abilities without having the pressure of being completely on your own during a session. Regardless of whether I'm playing as the Dominant or the submissive, I'll be thoroughly enjoying myself! I think it's very important to explore new activities and push boundaries, for myself and others. I love all aspects of kink and am always willing to try something at least once (within limits, of course ?). I like to create an environment that is built on mutual respect and trust – that's when I feel the most fun can happen! I am always willing to discuss a session prior to booking; I can answer any question or address any concern you have through a phone call or email.
Want to send Madi a token of your appreciation?