Brittany Elway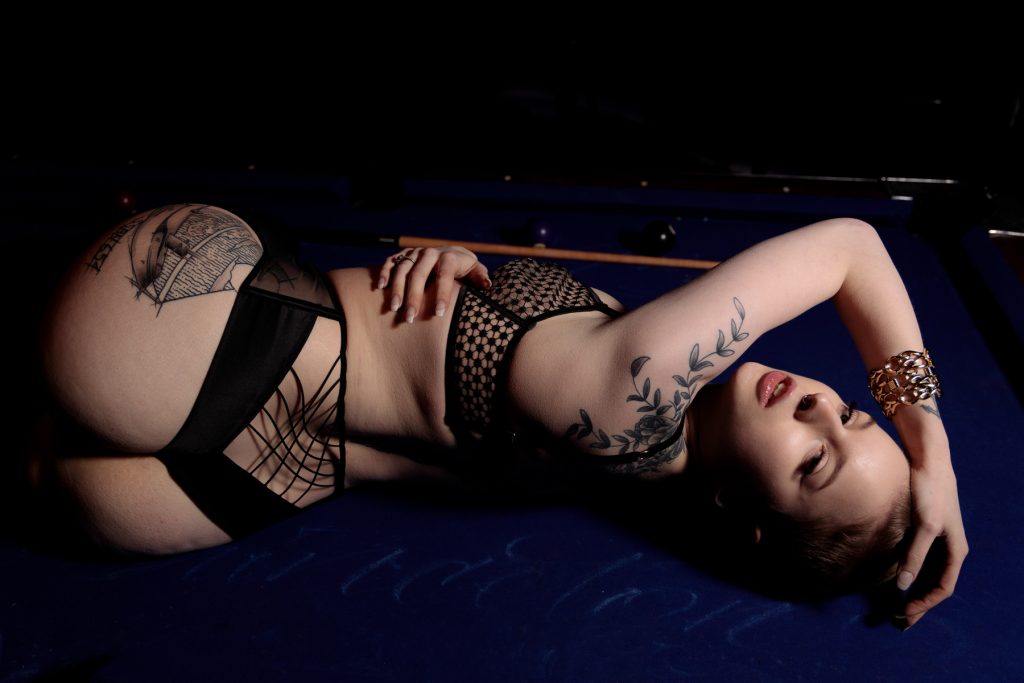 Email: Brit@BrittanyElway.com
Birthday: May 4th
Hair: Sandy Blonde
Height: 5'3″
Eyes: Hazel
Weight: 125lbs
Complexion: Porcelain
Bust: 30DDD
Orientation: Bisexual
Shoe Size: 9
Available Days: 7 Days a Week

(Subject to Studio Availability
Due To Exclusive Use of Studio)
Available Times: 8am to 12am

(Two Hour's Advance Notice
Required for Same Day Sessions)
I'm Brittany Elway, a playful Domme and Switch at Studio Sanctuary. I have a long-held appreciation for BDSM fiction and stories which ignited my interest in kink. I began my journey by becoming a "home-alone" cam girl the day I turned 18! As I began exploring, I dove into my local BDSM scene with fetish modeling and video production. I constantly desired more hands-on, intimate experiences in my work. That drive led me through the door of our dungeon. Being part of a dungeon professionally as a Top or bottom has been my dream, and it's a privilege to play both sides.
Standing at a dainty 5'3", I use my naturally alluring, voluptuous figure to my advantage in sessions. I will capture the gaze of any individual in my grasp with my delicate, pale skin and full 30DDD breasts that can have you bending to my every will and desire. My bright hazel eyes and round pouty lips compliment a doll-like face to achieve a deceptively innocent appearance.
Outside of BDSM, I have a passion for health and wellness. This has led to me becoming self-taught in the art of yoga and healthy, home cooking. When I'm not in the dungeon, I'm experimenting with new cooking tools and recipes in the kitchen or pushing myself to advance in my yoga practice. I continuously strive for self-improvement and carry that mentality into each session.
I exhibit a nurturing personality coated in a bratty, sassy exterior as a Dominant. I range from soft and sensual to playful and sadistic, depending on how my partner's energy bounces off mine and what they want to experience. Communication is a top priority in any of my sessions and stays constant throughout a scene, no matter how intense. Your emotional comfort is always my priority! I enjoy bringing you to the brink and back again with the flick of my fingers. Tease and denial and the incorporation of pain play in my sessions are specialties of mine. I strive for the euphoria one experiences when hitting subspace. There's nothing better than disconnecting from reality and giving your mind and body to your Dominant, even if it's momentary.
As a submissive, I enjoy a strong hand and a firm personality that can play off of my quick wit and attitude in a session. I genuinely am a BDSM sadomasochist and, with a thorough warmup, I relish in heavier corporal scenes and predicament bondage. I encourage those who aren't as experienced and who wish to expand their horizons to add another Dominant as a co-top for a unique educational experience. If you want to experience me as a submissive or Dominant but can't see me in person, I can also connect with you through text messaging, phone calls, and webcam, just like when I first started! Let my words and eyes guide you through your most secret and intimate fantasies.
Want to Send Brittany a token of your appreciation?