Madison's Session Interests
It is impossible to list all of Madison's session interests; therefore, the lists below are not meant to include all of Madison's session interests. If you have an interest not listed, please reach out to the studio or Madison directly to inquire further.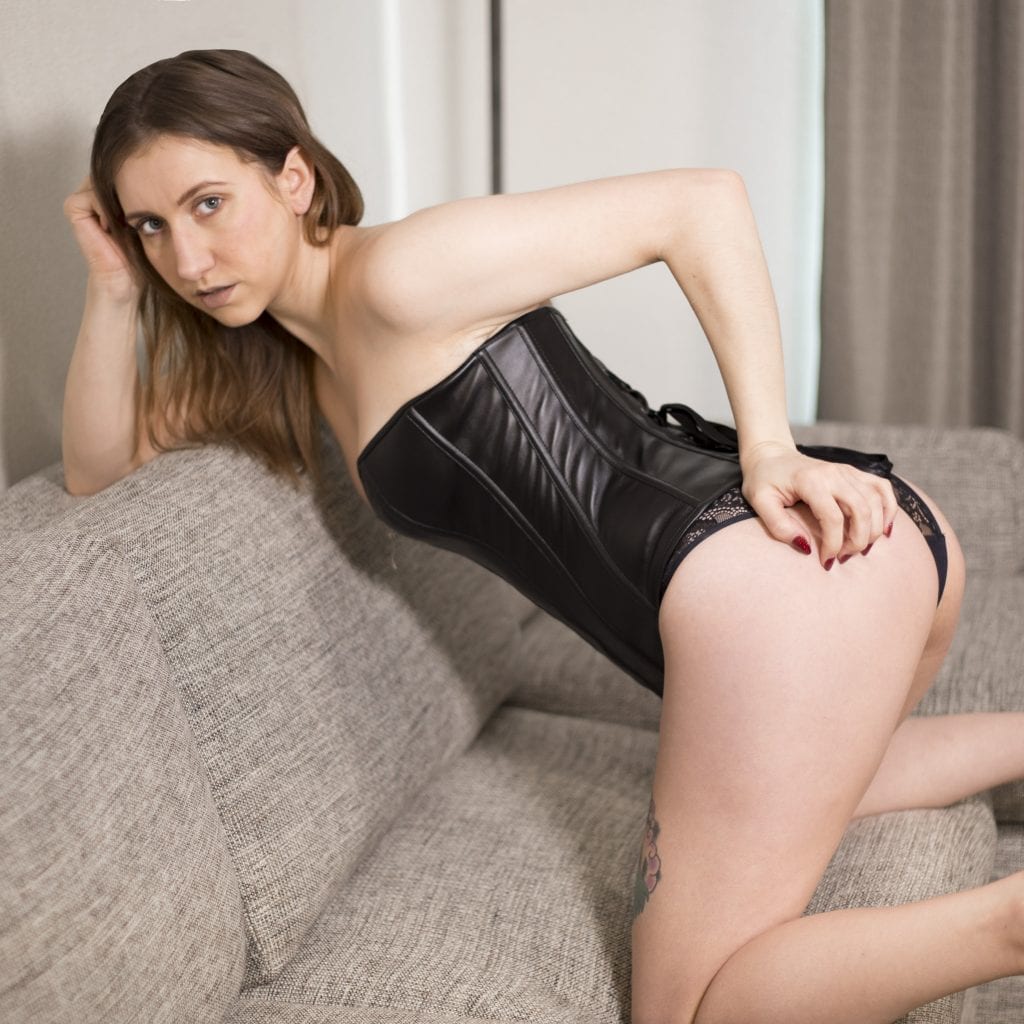 Madison's Interests as a Dominant
Madi is a sensual and whimsical Top who specializes in:
Abduction, Kidnapping, and Interrogation Scenes
Anal play
Body Worship
Bondage – Rope, Leather, and Predicament – Mild to Advanced
Caging and Abandonment
Chastity and Cuckolding (with or without a Bull)
Clothing Fetishes (lace, velvet, silk, satin, latex, leather)
Cock and Ball Bondage (CBB), Cock and Ball Torment (CBT), Ball Busting/Kicking
Corporal Punishment (Spanking, Paddling, Caning)
Cross-Dressing and Feminization (Voluntary or "Forced")
Electrical Play (TENS Unit, Violet Wand, Zap Wands, Shock Collar)
Exhibitionism
Financial Domination
Fire Play and Fire Cupping
Foot Worship & Foot Domination
Forced Homosexuality ("Forced" activities must still be consensual!)
Gags, Hoods, and Masks
Golden Showers and Saliva Showers (No Roman Showers)
Humiliation and Degradation
Hypnosis
Medical Play
Nipple Play & Torment
Off-Site Sessions (Remote Cabin)
Orgasm Control (JOI, CEI)
Princess/Goddess Worship
Role Play – Basic to Elaborate Scenarios
Sensation Play and Sensory Deprivation
Slave Training
Smothering & Face-Sitting (clothed only)
Strap-On Play
Tease & Denial (T&D)
Tickling
Total Power Exchange (TPE)
Madison's Interests as a submissive
Madi is an enthusiastic submissive who is eager to please! She most enjoys:
Belts and Straps (mild to moderate)
Bondage (Rope, Leather, Hogtie, Strict, and Predicament) and Restraints *
Boot/Body Worship (Non-sexual)
Caging
Clamps & Clothespins
Collar and Leash
Corporal Punishment (OTK, Spanking, Paddling)
Corset/High Heel Training
Domestic Service
Electrical Play (TENS Unit, Violet Wand, Zap Wands, Shock Collar) *
Flagellation (Flogging and light to medium Caning)
Following Orders
Formal Servitude
Gags
Hair-Pulling
Humiliation (Verbal and Physical) and Degradation (Verbal)
Hypnosis *
Leather and Latex
Objectification
Over-the-Knee Spanking
Puppy/Kitten Role-Play
Resistance Play *
Role-Play
Rope Suspension *
Sensation Play
Sensory Deprivation
Sensual Tease & Torment
Slapping *
Slave Training and Slut Training (and slutty clothing!) (No Sexual Activity)
Spreader Bars
Tickling (I'm only mildly ticklish so this is best for role-play or Switch sessions)
Wax Play
Activities marked with an asterisk (*) are partially or fully limited to experienced Dominants/Switches only.